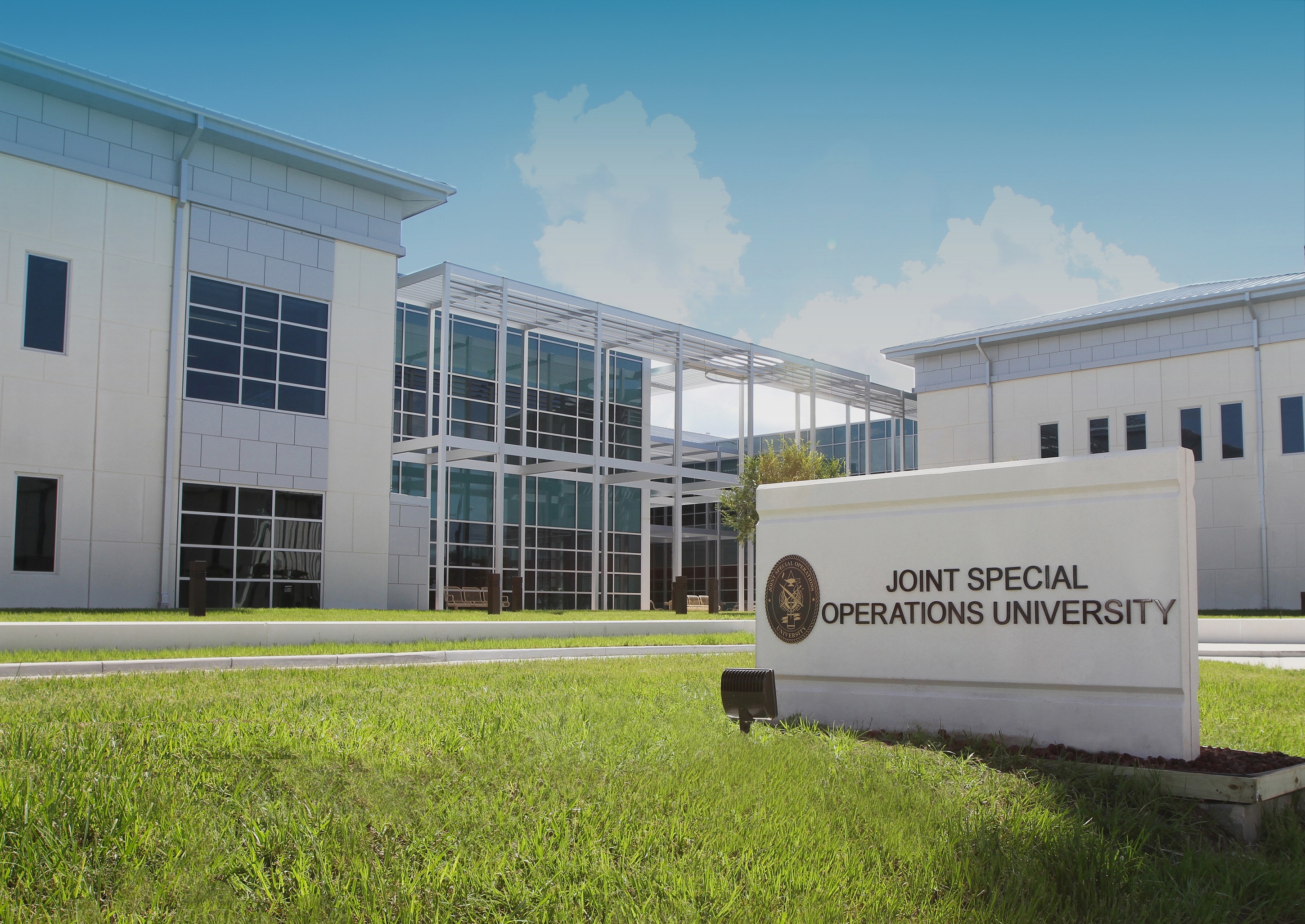 Our Campus & Facilities
In January 2017, JSOU opened the doors at its new main campus. Adjacent to the USSOCOM Headquarters at MacDill AFB in Tampa, FL, this modern facility is specifically designed with education in mind, serving as the central hub for innovative, joint SOF education while supporting traditional resident courses. The campus is composed of classroom/seminar rooms with adjoining breakout spaces, two auditoriums, three collaboration rooms, and faculty and staff office spaces, the USSOCOM Library and the History Office, media development areas, organizational support facilities, and student areas. It hosts an array of integrated modern capabilities to best facilitate traditional, blended, and distance learning (DL). The capabilities of the campus allow an unprecedented DL capability to enable real-time education across multiple locations to include component headquarters, the national capitol region, and the theater special operations commands (TSOCs). These capabilities minimizes travel while increasing opportunities for peer-to-peer interaction in local SOF communities and expanding the availability of expertise throughout the joint SOF education network. Within the campus halls are the College of Special Operations, the JSOU Enlisted Academy, and the Center for Continuing Education, the Center for Special Operations Studies and Research, and the Department of Academic Affairs. This world-class facility represents the significant commitment of USSOCOM to educate its force. The move to this new building ensures the university is well on its way to becoming a preeminent 21st Century educational institution recognized as the center for joint special operations learning and research.
Lodging
Student Services can assist with billeting arrangements for students at the following location based on availability; (students are responsible for reserving rooms with their government credit cards):
Lodging checkout time is 1200 (This is a firm time). Contact the lodging manager to make other arrangements if your schedule does not meet the 1200 checkout time. When on-base quarters are not available, Student Services will direct students to specific contracted commercial quarter's off-base. If off-base contract quarters are not available, the Lodging Office will issue non-availability statements as required. Please be aware that on-base lodging is "very limited" to "non-existent" for visiting families. Unless your family member(s) is/are attending the school in an official capacity and on official orders, lodging is not required to provide them quarters
MacDill Inn
7637 Bayshore Blvd, Bldg 350
Macdill AFB, FL 33621
DSN: 968-4259
Commercial: 813-828-4259

Reporting Info
The Joint Special Operations University (JSOU) is located at MacDill Air Force Base, eight miles south of Tampa, Florida, on the tip of Interbay Peninsula in Hillsborough County.
Uniform & Attire
For all courses, military students may wear any official uniform combination, to include the dress uniform, flight suits, or battle dress uniform. Civilian personnel should wear conservative, professional type business casual attire (slacks, open collar shirts, dresses, etc.). Jeans, shorts, T-shirts, athletic wear, and other very casual types of attire are not authorized.
Incoming Travel
US Government contract air fares will determine your arrival and departure airport. Visitors are responsible for transportation to and from the airport. Commercial taxi is available. Rental vehicles are the responsibility of each sponsoring unit. Tampa International Airport (TPA) is 16 miles northwest of MacDill Air Force Base. Southwest, United, Continental Us Airways, and Delta are the primary commercial air carriers operating out of this facility.
Outgoing Travel
Many courses do not end until 1600 on Friday. When making departure travel plans, please take into account the announced time the course ends. Early departures from class to make flights are not authorized.
Special Needs Requirements
The University's facilities were designed to accommodate students with special needs. The University is equipped with an elevator and handicap accessible ramps. In addition, interpreters can be made available, with prior notification. Please contact the Student Services department in advance with any specific requests.
DSN: 299-3586/3560
COM: 813-826-3586/3560

Dining
Diners Reef government dining facility is available for all personnel TDY to MacDill Air Force Base. Other on-base facilities include:

The Bayshore Club
Surf's Edge Club
Macdill Lanes Snack Bar
Seascapes Beach Club
BX Food Court
Burger King

Off-base eating establishments are located approximately 3-5 miles away. Base transportation is not provided.